Saint John the Russian
The church of Agios Ioannis the Russian is located in Prokopi and is dedicated to the homonymous saint. A large number of pilgrims visit the holy relic of the saint every day.
Monastery of Saint David
At the foot of the mountains "Kavalaris" and "Xiron Oros" opposite the village "Drymonas" is built the Monastery of Saint David dedicated to the memory of the Transfiguration of the Savior.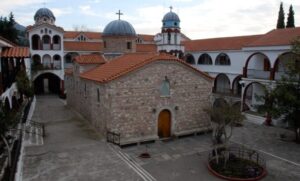 Galataki Monastery
The location in which it is located is truly magnificent as it is built on a plateau site 200 meters above the sea, thus having an excellent view of the Evoikos and the coasts of Boeotia. The Monastery dedicated to Agios Nikolaos (sea protector and in a way replaces Poseidon) celebrates both the official feast of the Saint (December 6) and the 20th of May, the anniversary of the repossession of his remains.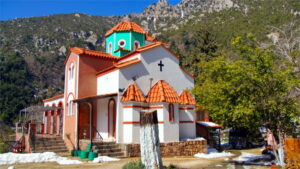 Monastery of Osias Irini Chrysovalantou
The Monastery of the Holy Peace of Chrysovalantos is a Metochion of the I. Monastery of Agios Georgios Ilias, which in 1990 granted it to another Brotherhood with the Abbess Gerontissa Chrysovalanti. and has in front of it the peaceful Evian gulf and behind it the green Valantio mountain.
In addition to the inner Church of Holy Peace, the Monastery has two other inner chapels: Saint Onoufrios the Ascetic, who celebrates on June 12, and Saint Job the Athlete, who celebrates on May 6.
Monastery of Agios Georgios
The history of the Monastery of Agios Georgios is lost in the depths of the centuries.
The Monastery was moved to its current location, from an area located just above the Baths of Edipsos. In the place where the old Monastery existed, today there is a small church in the name of Agios Georgios.
The location of the Monastery of the Suns is a site of stunning beauty. The travelers of the 19th century refer to the many ancient remains of buildings that existed in the area, identifying the place with that of the Oracle of Selinudi Apollo to which Strabo refers (X, 445). We do not know the exact date of foundation of the Monastery.